Sentinel Protection Installer v7.6.6 Windows
Sentinel Protection Installer is an integrated installer of the Sentinel System Driver, Sentinel Security Runtime, Sentinel Protection Server, and Sentinel Keys Server.
Feature Highlights
Sentinel System Drivers certified for Windows 8 and Windows Server 2012
SHK License Monitor and SSP License Monitor supports Internet Explorer 8, 9 and 10 (in desktop mode), Chrome 23.0.1271.97 and Firefox 17.0.1
Supports Java Runtime version 6 update 38 and version 7 update 10
Please refer to the Release Notes included in the packages, available at http://c3.safenet-inc.com (Doc ID 20176 SPI 7.6.6 Full CD, DOC ID 20175 SPI only and DOC ID 20174 SSD 7.5.8 Driver only).
Sentinel RMS 8.5.1.2009 (Linux) Service Pack Release (32-bit/64-bit)
Feature Highlights:
Introduced Stand-alone Persistence Cleaning Library for 64-bit Platforms
Enhancement in the Persistence Cleaning APIs
Enhancement in Obtaining Ethernet based Locking Codes
Support Added for SLES 11 SP2
Numerous other improvements
Please refer to the Release Notes included in the SDK, available at
http://c3.safenet-inc.com
(Doc ID 20178)
.
Sentinel Cloud v3.0
Feature Highlights/Enhancements:
• Introduction of Sentinel Cloud Web Services
Sentinel Cloud Web services offer a framework to integrate licensing and monetization abilities of Sentinel Cloud directly in an application. Any platform or language that supports HTTP call with SSL server authentication can integrate Sentinel Cloud Web Services.
• Tamper detection for On-premise Usage Data
SCS 3.0 introduces Usage Tampering detection and reporting. Now ISVs can discover if the usage data has been tampered with and generate reports for the same.
• EMS Access to a Default User (SFNTSupport)
Provide EMS access to a default user when allowed by the ISV to help SafeNet support team troubleshoot issues better and faster
• Larger Value Support for Maximum Usage Limit and Grace Limit
"Maximum Usage Limit" and "Grace Limit" variables now support larger values of 2147483647 (increased from 10000000)
• Allow edit of custom attributes for completed Product and committed Entitlement on EMS  GUI
The Sentinel Cloud Documentation with Release Notes is available at: http://sentinelcustomer.safenet-inc.com/sentineldownloads/
The full list of online documents can be navigated to from here: http://sentinelcustomer.safenet-inc.com/API_Documentation_Information.aspx
Communication from HASP Business Studio client to BS servers
Scenarios where BSS is split into Activation server and Management server, the communication to the BSS - Management or Activation - is always from the BS client machine. When the BS client logins to BSS, the list from ServiceData table is loaded so the BS client knows which is the BS server to contact. In the ServiceData table, the Activation server is the one addressed in the HASPClient row, the other is the Management server. The communication to the SQL database instead is only from the BS Server (Activation and Management).
Basic Linux Requirements for LDK Run-time Environment v1.18 and later
The Linux environment under which the Run-time Environment is installed should satisfy the following requirements:
Support for GLIBC version 2.4 or later
Support for 32-bit libraries (when using 64-bit linux)
Support for threading library (pthread)
Support for networking
Support for SysVInit
(For HASP HL and Sentinel HL) Support for UDEV and hot-plugging
YPS communication issue on Windows
Check about Microsoft update 
http://support.microsoft.com/kb/2661254
 installation on system. This update is for Windows XP, Vista, Server2003/2008, Windows 7 and 8 Problem: The issue is in validating the server certificate by Runtime during SSL handshake from YPS Cause: Microsoft has deprecated RSA certificates with length less than 1024 and provided a patch on all current Windows versions. The patch automatically block the use of all RSA certificates with length less than 1024 bits. Due to the same, the Sentinel Cloud .NET runtime with our current 512-bit certificates will not work on Windows machines with the above mentioned PKI patch installed. The workaround for now is to allow the usage of 512-bit certificates on the system Workaround:
Run the following command at command prompt to make it work
"certutil –setreg chain\MinRsaPubKeyBitLength 512"
We will keep all informed about the formal fix availability
Application installers issues windows 7 64-bit machines.

Information:

Article: KB100030.
Subject: Application installers issues windows 7 64-bit machines.
Product: SuperPRO / SHK.
Version: 5.x, 6.X.
Operating system: Windows 7 x64.
Author: Rajat Mehra.
---
Issue/Scenario:
Trying to create a basic application installer, which includes SSDUSB.msm and SSDCONIFG.msm, using InstallShield.
On Windows 7 64-bit machines, the installer runs fine but soon after connecting the sentinel key, it fails to find the location of sentinel drivers.
As a result, the key is listed as 'Other Devices' under Device Manager.
---
Workaround:
We can simply update the drivers under device manager by browsing it to the location C:\Program Files(x86)\Common Files\SafeNet Sentinel\Sentinel System Driver
This will take care of the issue on the particular client machine
---
Solution:
After including the msm files, we need to add required custom actions (Refer to help file for the list of Custom Actions.)
In the same InstallShield project create a new feature as "USB_Driver" and include " SSDConfigFiles and SSDUSB" under this feature (as shown below.)
Build the installer.
Tested with InstallShield 2011 and InstallShield 2012 and it worked for me.
---
Screenshot: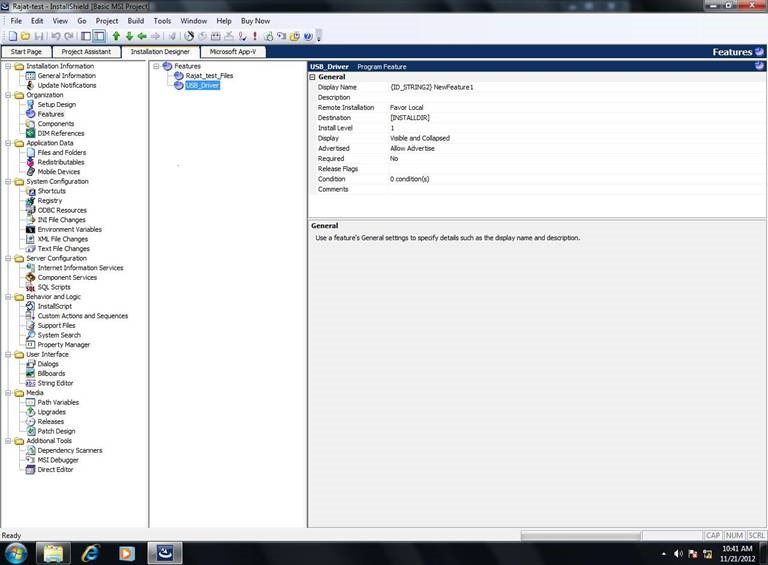 System.AccessViolationException at HASP login call on Windows 7
Problem: System.AccessViolationException was caught at hasp login() "Attempted to read or write protected memory. This is often an indication that other memory is corrupt." Source=hasp_net_windows Cause: hasp_net_windows.dll is not recognized and loaded properly Solution: This is specific to Windows 7 settings. On few systems the issue is resolved after checking the UAC settings and turning the UAC OFF. Additionally, make sure to use the latest .NET sample available at:
http://sentinelcustomer.safenet-inc.com/DownloadNotice.aspx?dID=8589943826
Categories
Select a product category: